October 2019
Calendar of Events
Basin Park Music Series
Oct. 11, 5 to 7 p.m.
Free Live Music in Basin Spring Park from 5 to 7 p.m. with Achi.
Basin Park Music Series
Oct. 12, 5 to 7 p.m.
Free Live Music in Basin Spring Park from 5 to 7 p.m. with The Haymakers.
Second Saturday Gallery Stroll
Oct. 12, 6 to 9 p.m.
It's an downtown open house for all participating Eureka Springs galleries. Meet artists in person as you stroll the streets in style. The stroll runs every second Saturday May through October.
11th Annual Voices From The Silent City
Oct. 17-19; 25-26
Living history tours of the Eureka Springs Cemetery located on Highway 62 East. These tours feature actors in period costumes sharing stories of their unique and colorful pasts.
These are one-hour walking tours through the cemetery starting at 5:30 p.m. departing from the parking lot of the old Victorian Inn and leaving every 20 minutes until 8:30 p.m. 
Tickets are $15 for adults and $5 for children 12 and under. They may be purchased at any Cornerstone Bank location or the museum downtown at 95 S. Main St. Tickets may also be purchased at the parking site.
There is no parking at the cemetery, but a free parking and shuttle service will be provided at the former Victorian Inn parking lot located on Highway 62 East. 
This is one of the Eureka Springs Historical Museum's main fundraisers for the year and has evolved into one of Eureka's most anticipated events. Come and learn about the history of Eureka from some of its "original" founders. 
For more information, call 479-253-9417. 
War Eagle Craft Fair
Oct. 17-20
With more than 250 booths of all handcrafted products displayed by their creators, the War Eagle Fair takes place along the banks of the War Eagle River. A beautiful fall setting of changing leaves makes the perfect weekend getaway experience for you and your family.
Hours:
Thursday, 8 a.m. to 5 p.m.;
Friday, 8 a.m. to 5 p.m.;
Saturday, 8 a.m. to 5 p.m.;
Sunday, 8 a.m. to 4 p.m.
Oktoberfest
Oct. 19-20
Come and join the Eureka Springs Rotary Club at the annual Oktoberfest. Sample the finest local micro-brews, craft and seasonal beers in this quaint little European-like village nestled in the Ozark Mountains. The party will be right in the middle of downtown on Center Street.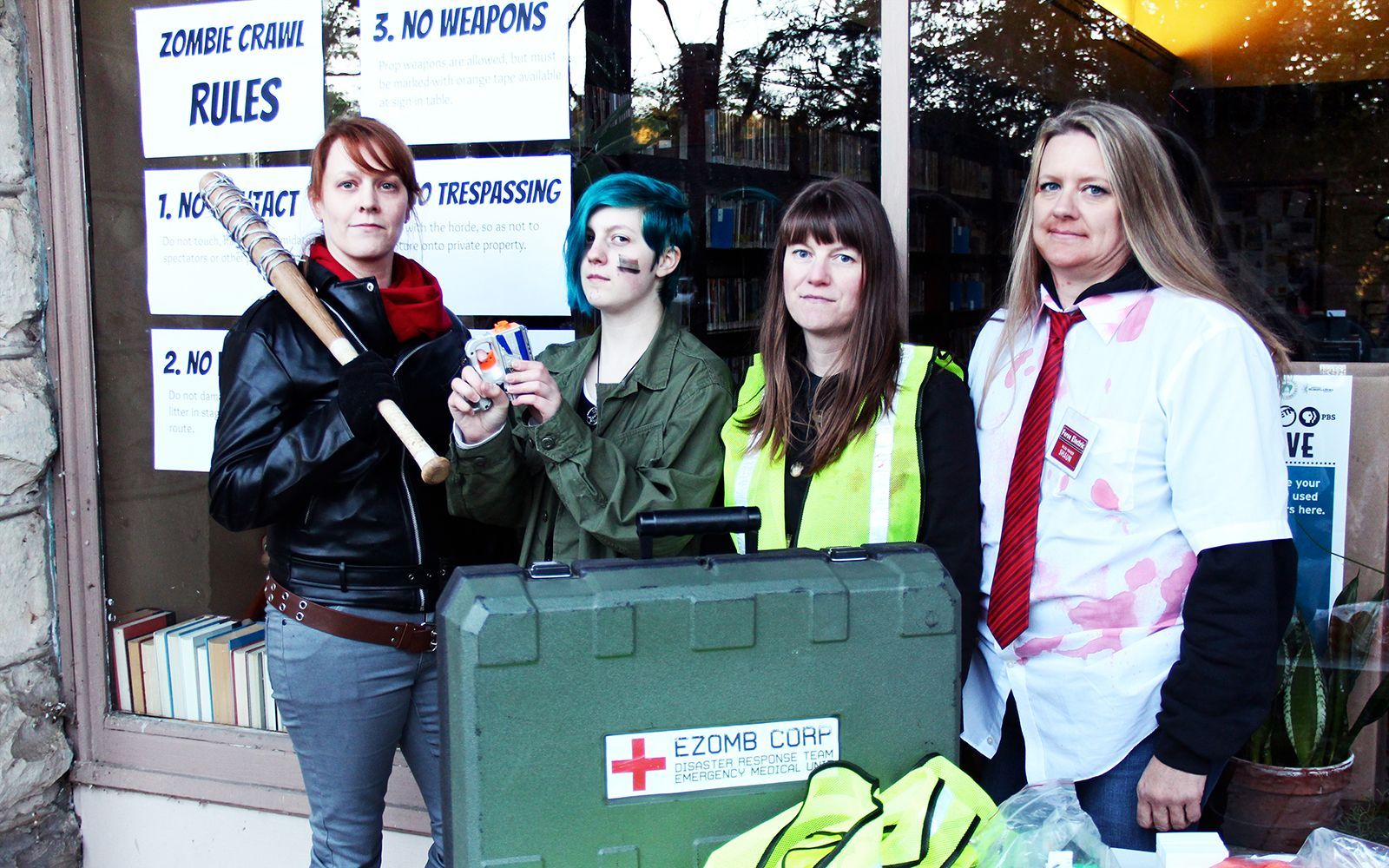 8th Annual Zombie Crawl
Oct. 26, 6 to 8 p.m.
SAVE THE DATE, invite your friends, and book your hotel NOW!
On the evening of Saturday, Oct. 26, the quirky mountain town of Eureka Springs will experience its 8th Annual Eureka Springs Zombie Crawl.
A parade of hundreds of hungry zombies will make their annual descent down Spring Street, followed by apocalyptic vehicles, spooky street performers, and Halloween floats. This is Eureka's biggest parade spectacle and it is not to be missed!
All are invited (locals and visitors) to dress up and join the horde. This event benefits the local Flint Street Food Bank.
24th Annual
Howl-O-Ween Spooktacular
Oct. 25, 7 to 9 p.m.
Don't be a scaredy cat during this family-friendly nighttime fundraiser. Join Turpentine Creek Wildlife Refuge as they turn their property into an open-air haunted house, brooding with lions, tigers...and the occasional princess. Costume contests, games, giveaways, hayrides, and wild animals await you for the only time of year the Refuge is open during the dark of night!