Eureka Springs Downhill Biking
Unforgettable adventure
---
Downhill mountain bike trails feature shuttle system, picnic area
fat tire festival runs july 12-14
If you think of yourself as a thrill-seeker, Lake Leatherwood City Park is the place to be. The Eureka Springs Parks and Recreation Commission opened the world-class downhill mountain bike trails at the park last year and the improvements have only continued since then.
Parks director Justin Huss said the commission hired a trails manager and trails crew, which has made a major difference in keeping the trails well-maintained for those interested in taking them for a spin.
"The funding from the Walton Family Foundation has allowed us to consistently have those cleared and maintained," Huss said. "When trees go down, we can quickly respond to that. It's a huge paradigm shift for us."
Since the trails opened, Huss said, they have been popular with visitors.
"We're really putting together a destination package where folks can come ride their bikes all weekend, put their bike on the car and go," Huss said. "If you don't think the trails are working, you have our eyes closed. The volume of bike racks and people in town has had an impact, and it's exciting."
There are nearly 30 miles of trails at Lake Leatherwood, Huss said, and the parks commission plans to continue expanding on that. It's clear people are interested in the trails, he said.
"It's nothing for a nice weekend for us to have 220 people out there riding," Huss said. "It's pretty amazing."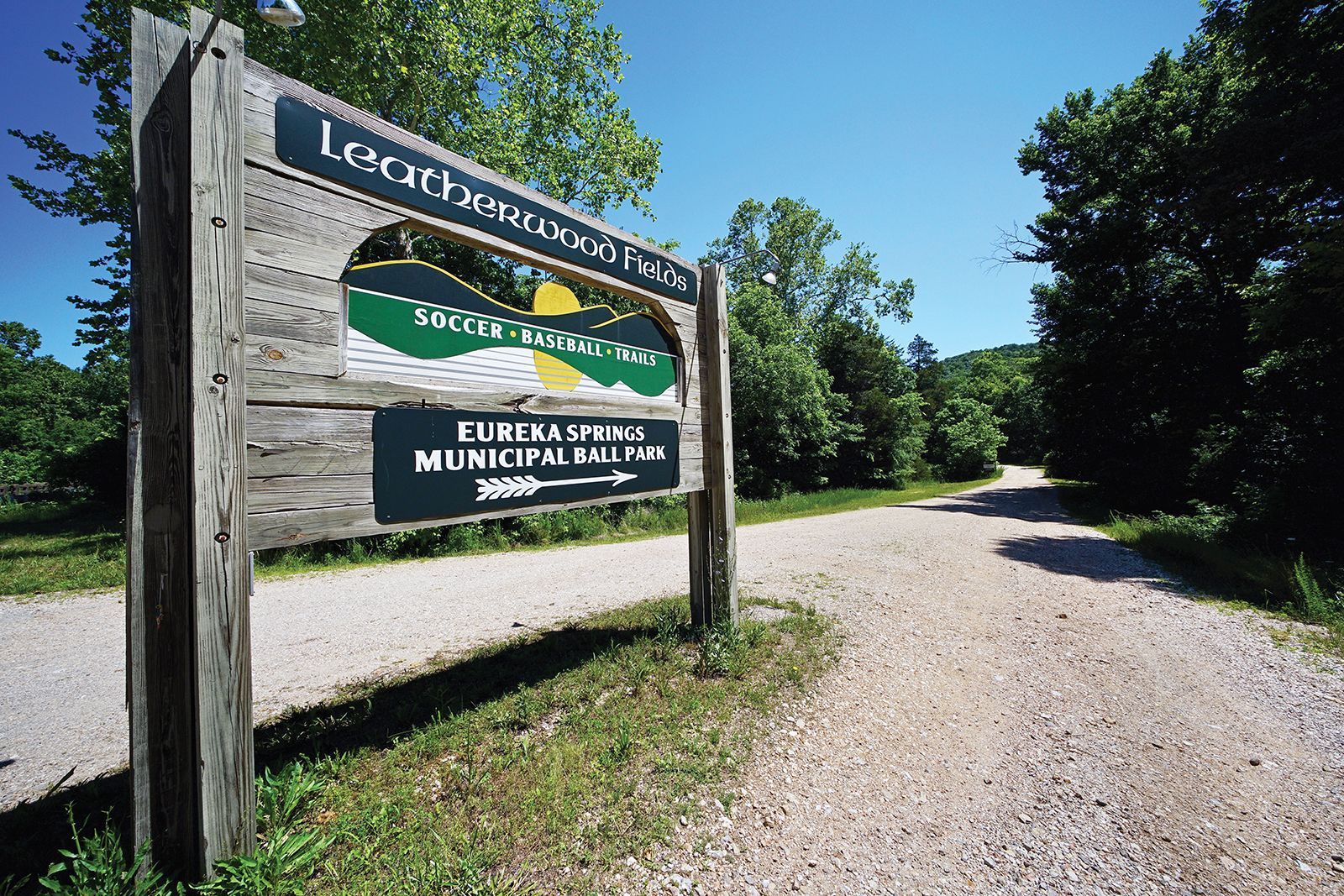 Entrance to Lake Leatherwood
---

"It's nothing for a nice weekend for us to have 220 people out there riding."
- Justin Huss, parks director
The shuttle service makes it easy to enjoy the downhill mountain bike trails. You can buy a pass at the marina at Lake Leatherwood City Park, and you can pay with your credit card. You can also get a season pass –– just ask!
Monday through Friday - 9 a.m. to 5 p.m.
Saturday and Sunday - 8 a.m. to 8 p.m.
One-day pass - $20
Half-day pass (after 3 p.m.) - $10
Two-day pass - $33.50
*All prices include taxes and fees
*All revenue goes toward the shuttle service, trails and trail maintenance
View videos of popular
Eureka Springs trails
View detailed trail information through TrailForks.com
Since the trails opened in June 2018, the trails crew has been working to improve the area where the downhill trails converge. Parks director Justin Huss said there was slick rock in that area before drainage, saying the parks commission has installed a steel grate system to make it safer.
"We've done quite a bit of work at the bottom of the downhills as far as opening up the picnic area," Huss said. "It's going to be a nice area for parking, drop-offs and picnicking. We're really happy about it."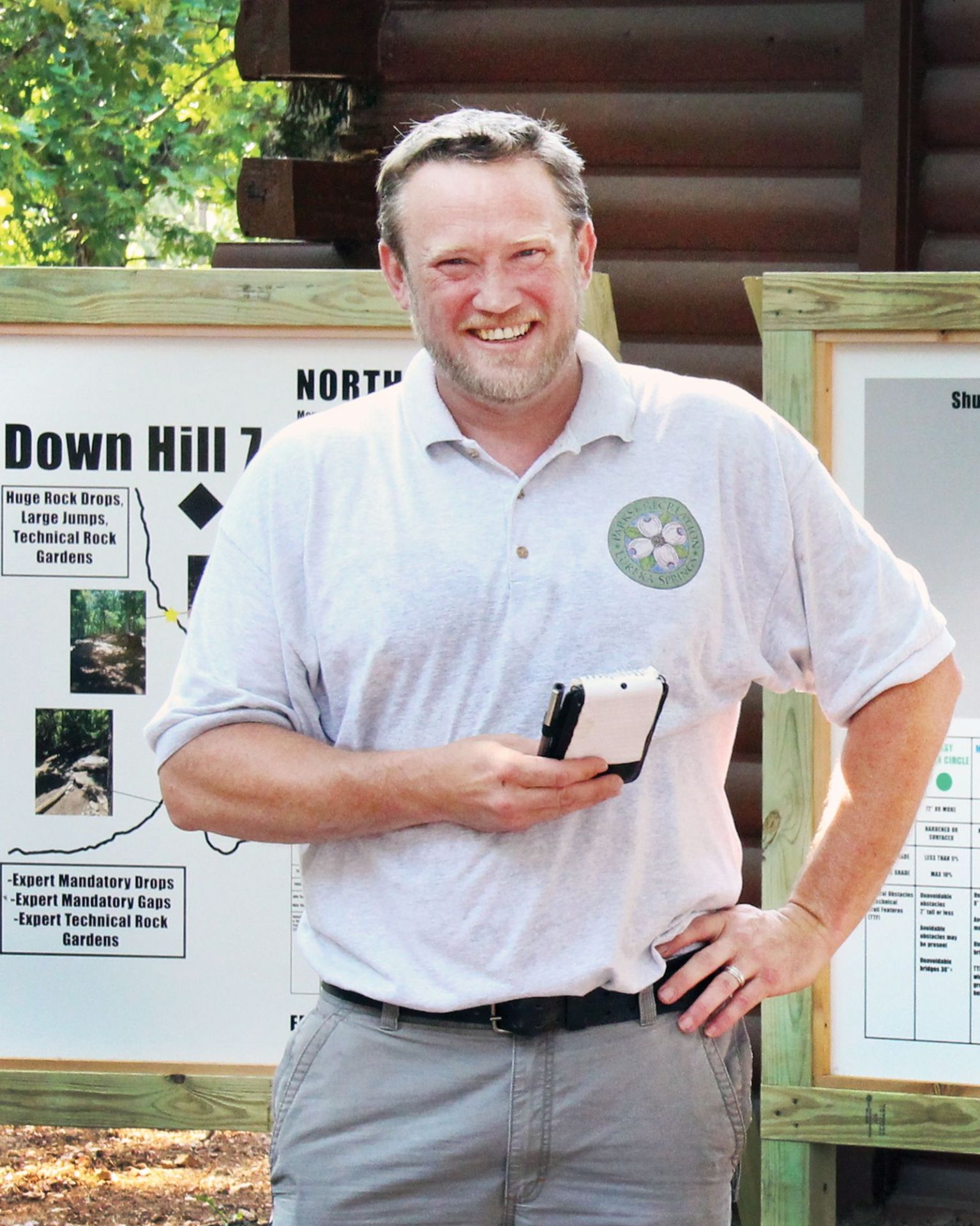 ---
Justin Huss, parks director
Instagram famous
Try our hashtag from Eureka Springs Visitor. We'll select photos to include in our online publication:
Post your photos of Eureka Springs downhill mountain biking on Instagram: